Cutting off the umbilical cord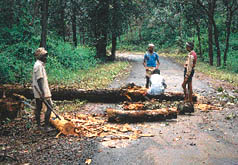 The white-bearded, wiry Baiga tribal of Chada village in Mandla is a sad man. " Dukh to hota hai, per kuch kar bhi nahi sakte " (It hurts, but we cannot do anything about it), he says helplessly. Baigas, the second largest tribe in the state, live in the hills in southeastern Madhya Pradesh. This region is replete with sal and mixed deciduous forests.

The old man - who stridently refuses to give his name - narrates how he felt when his own axe fell on the trees. Sure enough, his daily earnings have increased with felling contracts. "I know whatever is happening is not good for us," he says.

The sal tree is very important to the Baiga. They use the root, leaves, flowers, fruits and seeds of the tree as food, the main source of the minerals and vitamins in their diet.

Baigas belong almost exclusively to an area called Baigachak in district Mandla, which comprises 52 villages - most of them affected by the sal borer attack. Ram Prasad, director, Indian Institute of Forest Management, Bhopal, says: "The sal borer epidemic is going to affect the tribals. Their lives are completely dependent on the sal forests." Anand Kapoor, an NGO activist says: "The tribals are at the mercy of the forest department as they only have temporary pattas for land. They are actually helpless and under the thumb of forest personnel."
Related Content