Package collection plan promotes recycling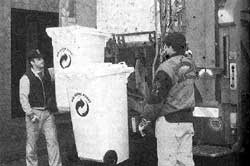 GERMANY has demonstrated how economic instruments can be used effectively to promote environmental causes in a market economy. An ordinance on solid-waste management, for example, has resulted in excess packaging in stores being reduced by 98 per cent and the use of recycled material in packaging increasing to 25 per cent.

The ordinance aimed at a 25 per cent reduction in packaging waste, which forms half the volume of Germany's domestic garbage. It assigned waste handling to the private sector and relieved municipalities of being solely responsible for it. The logic behind the decree was that suppliers of products must take back packaging, in accordance with the principle of the polluter pays.

The German authorities classified packaging wastes into three categories -- transport packaging (used to deliver goods), excess packaging (such as cardboard cartons) and primary packaging (such as toothpaste tubes). Waste handling also was converted to a three-phase project. In phase I, which began December 1991, all transport packaging amounting to about 2.3 million tonnes had to be returned for reuse or recycling. Phase II began in April 1992 and required consumers to leave excess packaging behind in stores. In Phase III, which came into effect this year on January 1, retailers must either provide facilities to take back waste packaging or join a privately funded collection system that guarantees minimum rates for recycling specific packaging material.
New company German retailers, unwilling to become repositories of discarded packaging, opted to join hands with packagers, consumer product companies and raw material suppliers and formed a company called the Duales System Deutschland (DSD), which is different from the municipal garbage collection system.

The DSD is estimated to cost about 7 billion marks (US $4.2 billion), with annual operating costs set at 2 billion marks (US $1.2 billion). Most of the funds will come from licensing fees paid by companies to use the green dot symbol developed by DSD to indicate approved packaging material.

The green dot fee varies, depending on the size and type of packaging. Plastics are the most expensive to recycle and so the fee is upto 50 per cent higher. The licensing fee, averaging two pfennigs (1 mark = 100 pfennigs) per container, has increased shelf prices of products by about 0.5 per cent. The green dot system is estimated to cost US $120 per household per year, which means raising in all about US $1.2 billion annually. Much of the money is being spent on consumer education.

The green dot system has proved to be very effective and most major retailers now insist on stocking only products displaying the symbol. Types of packaging material have changed and there is a spurt in development of technology to salvage difficult-to-recycle packaging material. The share of reusable transport packaging has increased to more than 13 per cent and 119 types of packaging material that were found to be difficult or impossible to recycle, have been replaced with paper or cardboard.

Critics, however, note the duales system could reduce the market share of difficult-to-recycle packaging material such as plastics. While this is true to some extent, processes have been developed to recycle plastic and aluminium wastes into higher-value material, instead of just dumping them in landfills. But the costs are still too high and manufacturers prefer to use easily recyclable material.

Atul Kansal is a research associate with Tata Energy Research Institute, Delhi.
Related Content