National heritage gets short shrift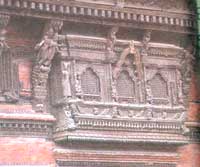 KATHMANDU has more temples per square foot than any other place in the world, wrote Pico Iyer in his travelogue Video Night in Kathmandu. But that reality may soon fade as Nepal strives to deal with the growing pressures of urban life in its capital. Nowadays, only monuments which have been documented are conserved and displayed for tourists. Other valuable historical structures and artefacts are being defaced and several may soon be bulldozed into rubble to make way for modern structures.

Nepal has eight sites on the World Heritage list, but its residents appear to be quite indifferent to them. As is the case in other parts of south Asia, defacing monuments seems to be the norm, and not the exception, in Kathmandu. Visitors to the city will often find mini-bazaars laid out inside some of the smaller temples, with devotees furtively checking out the wares as they leave. There is also a brazen lot which comes only to shop. Another example of disregard: one of two massive stone lions at the square near the Hanuman Dhoka, which would make Nelson's guards at Trafalgar Square seem puny, is being used as a tent peg while the other is plastered with political posters. The indifference of the people may have resulted from familiarity having bred contempt or, that in a city surrounded by the awe-inspiring Himalayas, man-made wonders have palled. Added to this, parts of the city's heritage areas are being cleared to make way for new buildings.

For decades now, Nepal has been getting massive amounts of foreign aid for preserving its heritage and for humanitarian purposes, but the allocations have been underutilised and the objectives are still a long way from being attained. Yet, as a World Conservation Union document Heritage of Nepal points out, it is not so much a question of money as it is of the attitude of the people which requires to be changed.

Most of the campaigns to save the valley's heritage have been co-opted by the elite. As a result, only well-known monuments have been converted to museums to lure green backs from tourists flush with funds.

In 1990-91, Nepal is estimated to have spent NRs 1.72 crore (IRs 1.04 crore) on conserving its cultural heritage. But money alone will not save a niftily-carved balcony railing or intricate pillar from being consigned to the dustbin of history.