South Korea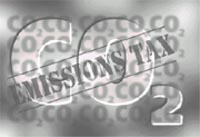 South Korea, the world's 11th largest emitter of carbon dioxide ( co 2 ), is coming under increasing pressure from other countries in the world, especially the us , to reduce its carbon emissions. With international negotiations on climate change, under the mantle of the 1997 Kyoto Protocol, gaining momentum, calls to cut down on the use of fossil fuels are intensifying, say government officials.

A report published in the daily Korea Herald said us president Bill Clinton has sent a letter to South Korean president Kim Dae-jung asking Seoul to set its greenhouse gas reduction target at 2008, 10 years earlier than what was initially proposed under the protocol. According to the protocol, 38 developed countries will have to reduce carbon emissions by 5.2 per cent below 1990 levels during the period 2008 to 2012.



Seoul responded to the pressure, announcing that it would begin reducing emissions on a "voluntary, but non-binding" basis in 2008. However, Seoul representatives said, "Negotiation is not something that is done on an unilateral basis. Our stance is that we will start to make binding obligations in 2018," said an environment ministry official. Meanwhile, the foreign affairs and trade ministry said the government takes the us request as an "expectation", rather than a compulsion.

The government is reviewing the feasibility of a domestic emissions-trading scheme by business houses, which is scheduled to be launched after 2001. Since 1998, the ministry has been overseeing a programme in which scores of businesses have voluntarily pledged to cut CO 2 levels by 8 per cent and adopt other energy-saving measures over the course of five years.

The government is also considering levying an emissions tax. But the timing of implementing these administrative programmes is a vital determinant to the health of the nation's economy, ministry officials say. So, Seoul wants to set its own timetable in meeting co 2 reduction obligations. Business analysts say that some sectors, such as automobiles and semi-conductors, which are already worldwide industry leaders, may be ready for reduction programmes. "Prime export industries, such as automobiles and semi-conductors, are being pushed from the international market side to take action," says Chung Ye-mo, chief researcher with the Samsung Global Environment Research Center. On the other hand, energy-intensive industries, such as petrochemicals and iron and steel are not taking measures, he says.
Related Content