Heat on in solar thermal power project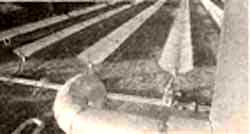 Despite international scepticism, the Union ministry of non-conventional energy sources (MNES) has revived plans to set up a solar thermal power plant in Rajasthan. The project will be executed by the Bharat Heavy Electricals Ltd (BHEL) in collaboration with Solel Solar Systems Of Israel (See Down To Earth, October 15, 1993).

The proposal to set up a 35 mw plant, first mooted in 1992, was shot down by the Planning Commission, which found the estimated cost of Rs 382 crore too high. But under pressure from the MNES to clinch the deal with Israel, BHEL has recently submitted a revised proposal, hoping that government subsidies will offset the high costs.

International energy experts, however, are still sceptical about an early reduction in costs. Charles Bensinger, president of Advanced Energy Systems of Santa Fe in the us, says, "Cost reductions and public policy changes must occur before solar thermal power could become a viable option. Cost reductions can occur only if solar thermal technologies are mass-produced. Also, fossil fuels must be priced more realistically to reflect their true environmental and social costs."
Related Content
blog comments powered by

Disqus