China offers financial aid to Africa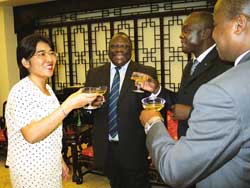 china has promised massive financial aid to Africa. At a two-day meet in Beijing, attended by 35 of the 53 African nations, Chinese president Hu Jintao pledged to double China's aid to Africa from its 2006 level by 2009. Speaking at the conference's opening on November 4, he promised us $3 billion in loans, us $2 billion in export credits and a us $5 billion fund to encourage Chinese investment in Africa. The aid is ostensibly Beijing's attempt at "improving political ties with Africa'. But it also comes at a time when China's state oil companies are expanding in Africa, signing deals in Nigeria, Angola and Sudan, while Chinese manufacturers are trying to expand their exports to African markets.

Beijing also faces criticism that it is treating Africa like a colonial territory and that it supports African regimes with poor human rights records."Africans do not need another external power enabling abusive regimes,' a representative of the New York-based Human Rights Watch said.

Even World Bank president Paul Wolfowitz has accused Chinese banks of ignoring human rights and environmental standards as they lend more to Africa. Possibly reacting to such criticism Chinese prime minister Wen Jiabao noted, "Our assistance to Africa is sincere, unselfish and has no strings attached.'

A succession of African leaders who spoke at the conference agreed with Wen. "Chinese companies can become key players by investing in our development processes,' said president Paul Kagame of Rwanda, speaking on behalf of a group of East African governments. They did not have to wait long for more sops. Beijing will waive debts owed by Africa's poorest countries to the Chinese government while increasing the number of categories of their exports that receive tariff-free import status, Hu announced. China will also train 15,000 African professionals, build schools, hospitals and anti-malaria clinics and send agriculture experts and youth volunteers to Africa. It would double the number of scholarships given to African students to 4,000 by 2009.
Related Content