Trawlers keep off Kerala coast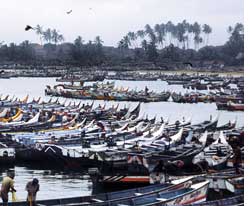 State promises free rations to jobless workers during seasonal ban

mechanized boats stopped trawling the coastal waters of Kerala from June 15 following an annual ban imposed by the state till July 31 to protect fish stocks that spawn during this period.

For once, the 4,000-odd trawler owners and workers have not opposed the ban imposed every year since 1988. Earlier they used to violate the ban leading to frequent fights between them and fishermen in small boats who are allowed to fish during the ban.
Related Content