Shaky business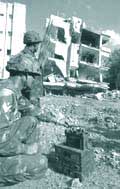 T he Gujarat earthquake has proved that even in the highly seismic zones like Bhuj, Uttarakhand and the Northeast, our preparedness and crisis management is a monumental failure. Bhuj is one of the 13 hotspots on India's seismic hazard map that was prepared three years ago. The assessment was that Bhuj might experience earthquake with a maximum magnitude of 8.5 in 50 years. The assessment never got incorporated into the nation's crisis management programme. "We are a nation with a casual attitude,' says Gaur.

Analysts feel that the nexus between builders and contractors and corrupt local bodies officials, responsible for these unsafe buildings, ultimately became the death trap for thousands in Gujarat. " The damage to buildings is due to the shock as well as the poor building materials, poor construction methods and large-scale flouting of building bylaws and regulations,' says Mihir Bhatt, honorary director, Disaster Mitigation Institute, Ahmedabad. "I have not seen a single building with any earthquake resistant feature in these areas. I don't even think that the officials concerned have any idea about the area's seismicity,' says Mathur.

In Kachhch district, 70 per cent of the buildings were not earthquake-proof. "It shows that building design norms were violated rampantly,' says V Suresh, chairperson of hudco . In Ahmedabad, more than 75 new high-rise buildings collapsed, while the local authorities pulled down another 20 as they stood precariously. Most of these buildings did not have earthquake-resistant features nor built according to the guidelines laid down by Bureau of Indian Standards (bis). Interestingly, 300 flats built by the Gujarat Urban Housing Development Corporation survived the quake as they were designed to resist earthquake. According to town bylaws in Bhuj, only two-storey buildings are allowed. But high-rise buildings came up and 90 per cent of Bhuj's new buildings were reduced to rubbles in just one minute. After the Jabalpur (Madhya Pradesh) earthquake, the Gujarat government made it mandatory for earthquake-prone areas like Ahmedabad, Rajkot and Bhuj to incorporate earthquake-resistant features in their house designs.

But these measures were not strictly enforced. Contractors, for example, would earlier insist on using about 30 killogramme (kg) of steel per square metre of constructed space. But a competitive market brought it down to about 10 kg.
Only on paper
India is probably the only country that has a vulnerability atlas that gives district-wise assessment of different hazards and risk involved with different constructions. This assessment was completed in 1988. India's each and every district has copy of this atlas and so details of designs that should be adopted in their respective areas. But everybody seems to have forgotten about it. "Everything has been written for a century, but there is no implementation,' says Mathur. Delhi, which lies in seismic Zone IV (the second most active zone in India), and like Bhuj is situated on an intra-plate fault disturbance area, has experienced eight earthquakes in the past two years. However, the Master Plan perspective 2001 does not recognise the fact that Delhi lies in highly seismic zone. The recent assessment by the New Delhi Municipal Council (ndmc) and the Municipal Corporation of Delhi ( mcd) that 50 per cent of structures in Delhi are not earthquake-resistant is an indicator to the devastation that would follow an earthquake. The ndmc and the mcd don't have any structural engineers who have the expertise in designing earthquake-resistant buildings (see box: Capital shock).

Some believe that making an earthquake-resistant structure is an expensive affair. However, researches from Roorkee University's Earthquake Engineering department have shown that incorporating features such as retrofitting old buildings does not cost much. Research shows that provision of lintel band and vertical steel reinforcement is very effective in imparting the strength and energy absorbing capacity to the building and the quantity of steel reinforcement as provided in the Indian code are found to be generally adequate. For two-storey structure, the additional features like lintel band and steel beams incur an extra cost of two-five per cent. Retrofitting an old building would be about 25 per cent of the cost (see box: Solid foundation).

Broken promises and hopes
With the death count rising, both the state and the central governments are struggling to coordinate relief efforts. At an all-party meeting, Prime Minister Atal Bihari Vajpayee declared the formation of a national disaster management committee comprising