Plea to save Kutch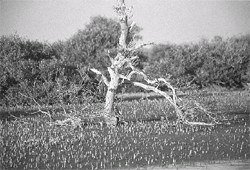 the Forum for Planned Industrialisation of Kutch has written to the Gujarat government expressing serious concern over the rapid destruction of the environment in the district, particularly its mangrove and coral reefs.

These precious natural resources are being threatened by the construction of ports, a thermal power station, salt works and oil pipelines. The forum has expressed fears that, like Jamnagar, the Kutch gulf will also loose its rare species.

Listing the demands of the forum, environment expert N D Chhaya said areas containing mangroves should not be allotted for building ports.

He urged the state government not to sanction permits for construction of new salt works and oil pipelines within the Coastal Regulatory Zone ( crz ).

He added that the proposed jetty in Khautha Island and the desalination plants violate crz rules.
Related Content