Copenhagen and the BASIC countries: some basic differences between the Indian and Chinese emissions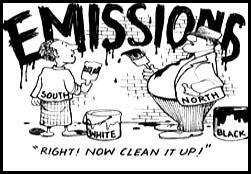 The Copenhagen Accord was cobbled together in hasty closed-doors consultations in the final hours of the failing climate meet by a select group of 26 countries. The Accord did not even get the imprimatur of the UNFCCC. Copenhagen failed to deliver a comprehensive and legally binding emissions reduction treaty.
Copenhagen succeeded in 'institutionalizing' the new entity of the BASIC group of countries, but fundamental differences exist in their emissions patterns, particularly between India and China. China is far ahead of India in total gross domestic product (GDP), annual rate of growth in GDP, carbon intensity of economy, aggregate and per capita emissions, rate of growth in emissions and the contribution its emissions make towards the current rate of build-up of CO2 in the atmosphere. The climate burden of the Chinese economic growth on the rest of the world is disproportionately large compared to that of India. The climate interlocutors en route Mexico 2010 (CoP 16) should
not ignore these 'inconvenient truths' about the Chinese emissions and economy and they should stop equating India with China when it comes to likely emissions capping, sooner or later. Exerting pressure on India to limit its emissions could be seen only as a covert political strategy to constrain its economic growth rather than gaining any substantial emissions reduction globally and it is convenient for the developed countries to put India together with China in the BASIC group for exerting such pressure. India should seriously reconsider its strategy of aligning with China on the
emissions issue.
For full text: http://www.ias.ac.in/currsci/25aug2010/439.pdf