Green drive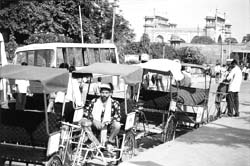 after many years of pulling the traditional rickshaw, 48-year-old Hira Lal is a much relieved person. He is a proud owner of a new model of cycle rickshaw that was recently introduced in his city, Agra in Uttar Pradesh. He says that the effort that had to be put in for pulling the old rickshaw even gave him stomach cramps at times. "Now, not only will my health improve, but my income will also increase," he proudly says.

Built in collaboration with the New York-based Institute for Transportation and Development Policy ( itdp ), a non-governmental organisation which promotes environmentally-sustainable projects worldwide, and the Delhi-based Asian Institute of Transport Development ( aitd ), this user-friendly cycle rickshaw is one of the six models developed by them.The project, which began in 1995, was aided by the United States Agency for International Development (usaid) with design and technical support from Indian Institute of Technology ( iit ), Delhi.

One of the aims of this project was to save the Taj Mahal which has been affected by air pollution from vehicles. The funding, according to itdp , "is a part of an environmental effort to save a globally-recognised place of cultural heritage". Though vehicles are banned within a 4-km radius of the monument, air pollution levels still remain dismal.

The rickshaw pullers have many reasons to opt for the new cycle rickshaws. The new models reduces strain and fatigue and allows them to work for a longer period of time. "My income has increased by almost 60 per cent," says one rickshaw puller who owns the new model.

"They weigh only 55 kg as compared to the traditional ones that weigh 90 kg," says Gadipalli Shyam, the consultant designer who is a graduate from iit . Another advantage is the addition of two new gears. "They will reduce pedalling effort by 17 per cent," says Shyam. These new gear systems, manufactured by Spark Engineering of Ghaziabad in Uttar Pradesh, cost Rs 400 and can be fitted to traditional rickshaws as well.

"Compared to the traditional ones that usually last for two to three years, the new ones are expected to last for nine to 10 years," says Matteo Martignoni, vice-president of itdp . The new models are also not very expensive: between Rs 3,200-Rs 4,200, which is just 10-15 per cent costlier than the conventional ones.

The passengers also seems to be happy with the new rickshaws. The footboards of the rickshaw are placed comfortably low and the seats have been widened from 63.5 centimetres (cm) in the old ones to 91.44 cm in the new ones. "The canopy is very well placed and provides good protection from the searing heat of Agra," says Noel Baker, a young tourist from the uk. The luggage space is another reason why passengers are opting for the new rickshaws. The chassis are lower and longer. This adds stability and reduces the centre of gravity. The rear wheels are also equipped with chassis to decrease friction and wear.

A couple of these rickshaws are plying in the iit campus in Delhi on a test basis and there are plans to introduce them elsewhere in the capital too. However, the promoters are facing problems in getting permits from the Municipal Committee of Delhi (mcd). "We are trying our best to convince the mcd ," says Shyam. "We had applied for the permit in August last year but are yet to get it. In Agra it took us only two hours to get the permit," says Walter Hook, executive director, itdp .

Rajendra Ravi, convenor of Lokayan, a Delhi-based non-governmental organisation, who works with rickshaw pullers, says: "There is no policy for rickshaw pullers in India, even though in Delhi alone there are an estimated 99,000 rickshaws and around 1.7 million people use rickshaws to commute daily, says Ravi. However, cycle rickshaws are considered to be a nuisance in many places, particularly in Delhi. "But due to socio-economic conditions, we cannot afford to get rid of them," says Geetam Tiwari, assistant professor of transportation research and injury prevention programme (tripp) at iit.

Meanwhile, tripp has prepared a master plan for bicycles in Delhi with a pilot project in Vikas Marg and Wazirabad Road. "We chose these places because of the difficult corridors and heavy flow of cycles and buses," says Tiwari.Countries like the Netherlands and China do not face similar problems as they have separate lanes for human-powered transportation. According to Tiwari, "The proposed lanes will occupy a minimum of 2.5 metres which will be wide enough for two rickshaws to cross."
Related Content