Happily uprooted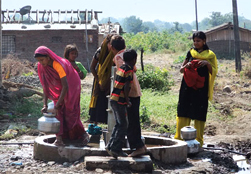 A well-calculated compensation plan eases relocation pain of forest dwellers from the core area of Melghat Tiger Reserve. It's not the kind of relocation story that one usually hears. Early last year three villages were uprooted from their traditional land in the core area of the Melghat Tiger Reserve to make way for free movement of the big cat. They did not protest, and walked away with their belongings and herds of cattle.
Related
Report: Village relocation - Success achieved by Melghat Tiger Reserve Management
Report: Centrally sponsored plan scheme 'Project Tiger' administrative approval for funds release to Melghat Tiger Reserve
News: Villagers move out of tiger zone, and are the richer for it
Web: Melghat Tiger Reserve - Project Tiger
Web: Melghat Tiger Project, Amravati
Feature:Tension over relocation at Melghat sanctuary
Feature: Protected areas and resettlement: What scope for voluntary relocation?
Feature: Displacement and relocation from protected areas: Towards a biological and historical synthesis
Related Content
blog comments powered by

Disqus