Basic road statistics of India 2008-09, 2009-10 & 2010-11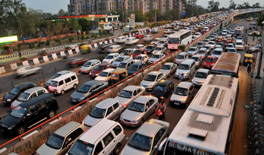 According to this latest Basic Road Statistics Report published by the highways ministry, congestion in urban areas has risen due to the disproportionate increase in road length & vehicular growth. Says that growth of cars in the past decade has surpassed two-wheelers.
The 'Basic Road Statistics of India' is a premier publication on the road sector providing comprehensive information on different categories of roads in the country, at the National, State and local (Municipal and Panchayat) levels. This volume of Basic Road Statistics of India gives comprehensive data for the years, 2009-2011 and attempts to provide a wide range of information on the status of road development in India in terms of its geographical spread and various categories of roads in terms of National Highways, State Highways, District Roads, Rural Roads, etc.
See Also
Report: Working group on road transport for formulation of Twelfth Five Year Plan (2012-2017).
Report: Performance of State Road Transport Undertakings (2010-11).
Opinion: Parking that can't be found.
Opinion: Before cars take over.
Feature: Car Control.
Report: Evaluation study on rural roads component of Bharat Nirman.
Report: Urban transport for 12th Five Year Plan.
In-Court: Delhi HC order on congestion.