Epidemiological study on effect of air pollution on human health (adults) in Delhi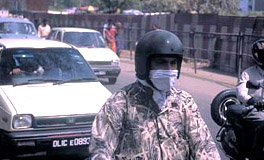 This is a detailed study on health impact of air pollution on human health in Delhi conducted by Central Pollution Control Board (CPCB) with Chittaranjan National Cancer Institute.
Respirable particulates present in high concentrations in urban air are recognized as hematotoxic, neurotoxic, and carcinogenic. Several million Indians residing in the cities are exposed to these pollutants both occupationally and environmentally. With this background, the present study was undertaken in Delhi with following objectives: to prepare a database on air pollution related respiratory symptoms among the residents of Delhi; to assess the degree of lung function impairment in persons chronically exposed to city's air; and to explore the underlying mechanism of air pollution related pulmonary dysfunction at the cellular and subcellular level.
See Also
Feature: Global Burden of Disease ranks air pollution as a top killer.
Opinion: Smog has to be cleared.
Fact Sheet: Tracking Winter Pollution...
In-Court: Supreme Court of India on air pollution in Delhi.
Analysis: Urban air pollution and co-benefits analysis for Indian cities.
Report: Dialogue on air pollution.
Paper: Air quality management in Delhi.
Paper: Estimating health impacts of urban air pollution.
Related Content