Setback for Newmont Mining Corporation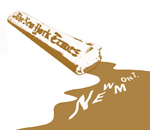 An Indonesian court has rejected a lawsuit filed by the Newmont Mining Corporation against the New York Times over pollution accusations made in the paper. The lawsuit was filed in the Central Jakarta court. New York Times had, between September 2004 and February 2006, run several stories highlighting comments by villagers who claimed to have been sickened from fish caught in Buyat Bay, near a now defunct Newmont gold mine in North Sulawesi province.

The court threw out the lawsuit, which sought around us $65 million in compensation. It said that' all the engaged parties are foreigners and domiciling outside the country, thus the case cannot be processed in Indonesia'. Newmont's lawyers are appealing the decision.

In April, an Indonesian court cleared Newmont of charges related to dumping of toxic waste into a bay near a gold mine in North Sulawesi after a 20-month trial. But in May the prosecution filed an appeal to the Indonesian Supreme Court to overturn the ruling. Newmont has asked the court to reject that appeal.