Costly vaccine to pre empt cervical cancer may not find takers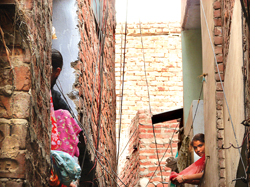 Pharmaceutical giants Merck and GlaxoSmithKline have developed two vaccines that they promise will eradicate cervical cancer. Soon after the companies announced their products in mid-2006, public health agencies in the us and Europe began discussing how to integrate them into their vaccine programmes. Now, plans are afoot to deliver the vaccines to developing nations, including India, where cervical cancer is often fatal for women (see box: At high risk). But there is evidence that this may not be a miracle cure.

"Cervical cancer is one of the major cancers for women in India. It hits the poorest of the poor,' says N K Ganguly, head of the Indian Council of Medical Research (icmr). "Anything which mitigates it will be a major advantage."

India has taken some steps towards developing an anti-cervical cancer programme, with Union health minister Anbumani Ramadoss speaking repeatedly in favour of human papillomavirus (hpv) vaccines. In December 2005, icmr and Merck announced a public-private collaboration to study the company's vaccine, Gardasil. A month earlier, GlaxoSmithKline and Oxford University had reached an agreement to study various cancers at prominent research centres, including the Tata Memorial Hospital, Mumbai, and the All India Institute of Medical Sciences, Delhi. The World Bank, usaid and unicef are also involved in efforts to bring the vaccines to India.

Last June, the international public nonprofit health body path, based in Seattle, too, announced a five-year partnership with government agencies, industry, research organisations and other groups to evaluate the possibilities for hpv vaccines in four countries: India, Peru, Uganda and Vietnam. Results from this research, being funded by a us $27.8-million grant from the Bill & Melinda Gates Foundation, will help those countries decide whether or how to introduce the vaccines.

Initial reactions to the vaccines, which prevent several types of hpv, were almost entirely positive. Clinical trials on more than 20,000 women showed Merck's Gardasil to be 100 per cent effective at creating immunity to hpv 16 and 18 and at preventing cervical lesions arising from those two strains. Lesions are often precursors to cancer. GlaxoSmithKline's vaccine, Cervarix, seemed similarly effective. Gardasil also protects against hpv 6 and 11, which are responsible for genital warts.

The idea spread that if the vaccine could be delivered to all preteen girls before they became sexually active, then a generation of women could be free from cervical cancer. Soon, however, questions arose about why the companies were marketing the vaccines so hard and so fast. Gardasil was approved by the United States Food and Drug Administration (usfda ) in June 2006. As of this July, it has been licensed in 80 countries; 35 in Europe. Cervarix has been licensed only in Australia, but other countries are predicted to follow suit soon.

These approvals rest on studies lasting only five years, so some experts are concerned that the vaccines may not provide long-term protection. Some are pressing for an improved vaccine that could fully prevent strains 45 and 31.

The vaccines have not yet been fully evaluated in girls under 16. Despite this, Gardasil has been approved by the usfda for use in girls as young as nine.In India, Merck is conducting a study that tests Gardasil among healthy females between 9 and 15. Since participating girls are not yet sexually active, says Ganguly, the trial will not include a gynaecological examination but will measure whether the vaccine produces anti-hpv antibodies.

Since the target group is girls who have not yet become sexually active, hpv vaccines need to be evaluated over several decades, says C Sathyamala, an epidemiologist at the Council for Social Development in Delhi. Without this, it is impossible to know whether women will still be protected in their forties and fifties when cervical cancer typically hits. "It's unethical to subject women to an untested vaccine,' she says.

In addition, the vaccines are expensive. Gardasil costs $360-plus in the us and about $500 in the uk. They are the most costly routine vaccinations ever sold. Prices are said to be based on the concept of value to society rather than actual manufacturing costs. With over 30 states in the us, as well as the uk's Joint Committee on Vaccination and Immunization, considering making hpv vaccines mandatory for schoolgirls, this could translate into huge profits.

While surveys reportedly show that the American public favours giving girls the vaccine, conservative political groups have successfully lobbied against it in states including Texas. Anti-vaccine activists say a mandatory scheme would infringe on the rights of parents and, more controversially, claim the vaccine will promote teenage promiscuity. This February, Merck announced it would not try to persuade state legislators.

Valid concerns
Many Indian public health experts question whether the vaccines are worthwhile. First, there is cost. Money would be better spent on providing adequate food and clean drinking water, which could curb a wide range of infectious diseases such as cholera and hepatitis a, argues Sathyamala. While hpv is at the root of almost all cervical cancers, she says, women with weak immune systems are most at risk. Thus, providing services that address poverty and improve overall health could also have an effect on cervical cancer.

A special report by path's newsletter Outlook elaborates on the financial issue. "Financing for health care in developing countries is already limited; therefore, financing for hpv vaccine programme will require sustained, strong advocacy efforts and innovative strategies.