Dry dams bring darkness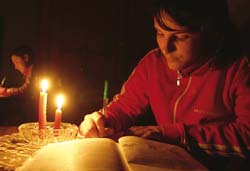 Albania in southeastern Europe has imposed severe power cutbacks in the country. Drought and poorly maintained infrastructure threaten to bring electricity production to a halt in the country.

Electricity supply for general consumers are to be restricted to four to eight hours a day, said Korporata Elektro-energjetike Shqiptare (kesh), the national electricity distribution company. kesh also said that cuts might exceed 15-16 hours a day in cities and would be even greater in villages. However, company officials added that hospitals, bakeries, public institutions and embassies would continue to receive power.

This measure was imposed after a shortage of water virtually stopped Albania's hydroelectric power plants, the country's only energy source. Talks were being held with neighbouring Greece and Serbia so as to transfer energy to Albania from other countries.
Related Content