Thai PM goes safari shopping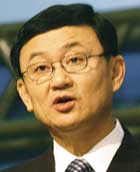 Thai prime minister Thaksin Shinawatra's recent pursuit of the controversial deal to stock a safari park in Thailand with African animals has again fueled a long standing controversy. Reportedly, up to 135 animals might be involved in exchange for Thai technical assistance. Also a donation of around us $490,000 million for the animals has been given by Thailand.

The swap arranged last year had attracted little notice until animal welfare campaigners got wind of the arrangement and protested. Activists claimed the animals were to be captured from national parks and wildlife reserves. Transferring animals from their natural habitat to zoos would affect their welfare and also hamper efforts to protect them while also damaging Kenya's tourism sector, they said.