Local travails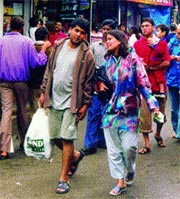 Incredible India. The land of mystic splendour. The hidden paradise. These are just three slogans to convince people to turn themselves into tourists and land up, every summer, in droves in hill-stations. Ooty's annual flower show attracts 0.2 million tourists over two days. In addition, it receives over 0.3 million tourists annually. Darjeeling annually receives close to 0.6 million tourists. Gangtok, a new entrant, gets more than 0.2 million tourists. And the more they turn up, the happier it makes state governments. The official logic is simple: tourism helps develop hill towns, providing employment to the local people and boosting the hill economy. It also checks out-migration from hills. But the local residents say tourism should be regulated. "Tourism is the biggest source of revenue for us but at the same time the environment needs to be protected,' remarks Sarikah Atreya, a freelance journalist based in Gangtok, Sikkim.

In the peak season, high tourist influx overstrains the infrastructure. Points out Area and issue profile of Darjeeling, prepared by Darjeeling Ladenla Road Prerna, a local non-governmental organisation (NGO), "When compared with the growth in the resident population, the increase in tourist population is far greater. The increase has been so rapid that infrastructure facilities cannot keep pace.'

In the tussle for scarce facilities, residents often lose out to tourists. "We go without water for weeks, whereas water supply to hotels remains intact. Some of these hotels have also illegally tapped the main water line,' alleges a resident of Darjeeling.
Big earner
Tourism annually generates a sizeable amount of money for each hill-station. For instance, according to Pariyar, the annual tourism earnings from Darjeeling are Rs 70 crore. P K Dong, executive director, Sikkim Tourism Development Corporation, says that Gangtok's were Rs 42 crore annually. According to a study conducted in Shimla by the SPA, tourists spend maximum share of their money on food (36 per cent), followed by accommodation (25 per cent), transport (20 per cent) and shopping (14 per cent).

But most of the facilities that provide these services are owned by people staying outside the hill-stations, according to local residents.

Hotels do big business but hardly contribute towards the financial resources of local bodies responsible for developing hill-stations. "Almost 50 per cent of hotels in Darjeeling operate without a licence. Even the ones registered pay a mere Rs 500-750 per annum as licence fee to the municipality. This sum also includes conservancy fee [this is levied for sewerage and sanitation]. In return they gobble local resources. Most of them have private water tankers to ensure there is running water supply,' says Pasang T Bhutia, former chairperson of Darjeeling municipality. "Once when we tried raising resources with their cooperation by levying an entry fee of Rs 3 per tourist, they did not cooperate. We hardly get any development funds from the state government, so what should we do?'

Some local people in Darjeeling feel that the state government has failed to protect their interest. "There is no law which restricts outsiders from buying land in Darjeeling. Hence, people from plains have bought land, constructed bungalows and hotels and are doing brisk business,' says Yonzone. By Sikkim government law, outsiders cannot buy land from the Lepcha and Bhutia communities. But this has not helped much. "Since outsiders cannot own hotels in Sikkim, they take them on lease from locals at a minimal cost, and all the profits go into their pockets,' says Satyadeep Singh Chhetri, a lecturer at the Sikkim Government College, Tadong.

Even profits from daily supplies of eatables and other commodities don't go to hill residents. "Many years ago, in Gundari bazaar, locals used to sell their vegetables. But now all the vegetables in Darjeeling come from Siliguri,' says B L Pradhan, a resident of Darjeeling. "And so is the case with eggs, poultry and meat.' Gangtok, too, must source its vegetables daily from Siliguri. Kalzang Diki, a Gangtok resident, says there has been no effort to secure livelihood for local people: "Lachung area in north Sikkim is known as the cabbage belt, but since there are no local cold storage facilities, all the cabbage is exported to Siliguri at a throwaway price. From there it gets transported back to Sikkim at double the price.'
Some solutions
State governments are beginning to realise the pressures hill-station residents face due to the high tourist influx.

Some are toying with the idea of village tourism, deflecting tourists to villages in the vicinity of hill-stations. This way, goes governments' belief, villagers too will earn money.

The World Wide Fund for Nature
Related Content