The dollar conscious producers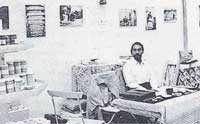 INDIAN farmers are cashing in on the Western fad for organically produced food. But before organic farmers can start dreaming of the greenback, it is virtually essential for their produce to get international accreditation or recognition.

Kurunji Organic Food India Pvt Ltd (KOFIL), a Tamil Nadu-based agency, was the first in India to get its produce certified as organic by the Institute of Marketing in Switzerland in 1987. This boosted its image and sales. A Dutch award in 1990 prompted the Bombay Burmah Trading Corp (BBTC), which exports tea grown organically in Tamil Nadu's Tirunelveli district, to increase the area set aside for organic tea cultivation.

KOFIL owner C Jayakaran holds a post-graduate degree in management and took up farming in 1985. The "high demand for chemical-free food products in the health conscious West" motivated him to export organically farmed products.

KOFIL's 25 farms, totalling 200 ha, are spread over Dindigul Anna and Madurai districts, with 100 ha in the Kodaikanal hills alone. In the upper reaches of these hills, where the climate ranges from tropical to temperate, fruits are cultivated. Coffee, pepper and banana plantations cover the mid-ranges, while in the foothills mango, coconut, rice and banana are cropped. He has syndicated with two dozen farmers of Kodaikanal, Bathalakundu and Periyakulam who produce and export organically grown fruits.

Jayakaran denies organic farming is less profitable, saying, "If that were the case, I wouldn't have been able to get so many other farmers with me. Even if 50 per cent of the yield that can be got from inorganic farming is obtained, it is profitable as the prices are high."

Says Jurgen Becker, the German environmental technologist who inspired Jayakaran to start the farm, "In Kurunji, both production and processing are environment friendly." Fruits are hygienically dehydrated by a solar hot air collector. "We don't add chemicals, preservatives or colouring agents while processing," says R Subramaniam, manager of the Kurunji farm at Bathlakundu. A team led by Rainer Bachi of the Institute for Marketing in Switzerland checks for the presence of chemicals from samples of various parts of plants and the soil.

BBTC grows tea in Manjolai, in patches of plantation that are interspersed with strips of forest. In the area under organic tea, synthetic fertilisers and pesticides are no longer used. Prunings of tea bushes and Guatemala grass grown in swampy ground are composted in trenches dug between rows of tea. BBTC group manager P D Jothi Kumar says these patches of tea are surrounded by buffers of tea bushes, which are also cultivated organically but not sold as such. This makes the organic tea absolutely free of chemical contamination.

"We get about 3,000 kg of organically farmed dry tea from one ha, which is nearly the same as in inorganic farming. We are trying to convert the entire garden to organic tea production. But this process will take some time and a lot of effort as the existing bushes are heavily impregnated with chemicals," says R Sashidaran, a BBTC official.

However, the higher cost -- especially of labour -- of producing tea organically seems to deter conversion to completely organic plantation. According to Kumar, the annual expenditure per ha of organic tea cultivation is Rs 90,000, of which 60 per cent goes in composting and weed control. By comparison, the annual expenditure on inorganic farming is Rs 60,000 per ha.

The success of the venture will depend on finding a suitable export market. BBTC officials refuse to divulge information on quantities, profits or markets as "such information may be used by competitors". However, a BBTC transport agent revealed 10 tonnes of tea are transported weekly to Kochi for export.
Related Content