Gender bender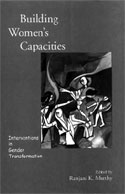 The people of Pudukkottai, one of the most backward districts in the Indian state of Tamil Nadu, are dependent on dry land farming mainly due to lack of indutrialisation and low rainfall. Quarries too are a secondary source of livlihood, which provides boulders and stones for construction of buildings. Extreme poverty in the district has also led to bonded labour.

In 1976, 169 persons were released from bondage and helped to rehabilitate themselves. About 15 years later, the district administration attempted this experiment on a larger scale. Women quarry workers were organised into groups and given quarry leases. This was a bold attempt to transform social relations including gender equations in the district.

This book is a collection of papers on various attempts to empower women at the grassroots. Each paper illustrates the developmental impact of training programs and non-training strategies to build the capacities of women in Village India. Makes for interesting reading especially for development practitioners, non-governmental organisations, trainers, policy makers and funding agencies.
Related Content