Delhi statistical hand book 2012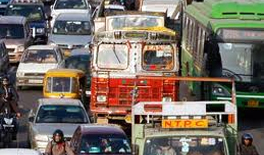 Over 5 lakh vehicles were registered in Delhi in 2011-12, reveals this 37th issue of Delhi Statistical Handbook brought out by Directorate of Economics and Statistics containing data related to various socio-economic parameters on the capital city.
Delhi Statistical Hand Book-2012 is the 37th issue being published by Directorate of Economics & Statistics, Government of National Capital Territory of Delhi. This publication contains data relating to various Socio-economic parameters in respect of NCT of Delhi. Data is presented under 23 broad chapters.
See Also
Report: Statistical abstract of Delhi.
Report: Provisional population totals - NCT of Delhi.
Report: Issues and challenges for 12th Five Year Plan (2012-17) of Delhi.Report: Census of India 2011 - houses household amenities and assets.
Report: Employment situation in Delhi.
Report: Urban slums in Delhi.
Report: Climate change agenda for Delhi 2009-2012.
Report: State of environment report...
Related Content