Mean model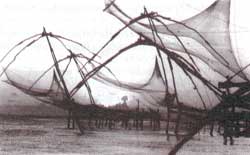 KERALA is considered a puzzle in international development debates as it reportedly shows economic stagnation with high social development. Comparative longevity, declining fertility, better infant survival rate and increasing literacy are some development indicators usually projected. With the kind of publicity received within the country and abroad, there are frequent calls for replicating the Kerala Model everywhere.

But curiously, inflation in Kerala has made consumer items, including food, scarce for the poor; unemployment rates are steadily climbing an all time high; alcoholism and suicides are increasing alarmingly, and poverty and malnutrition figures glare one in the face.

Areas under paddy - the staple foodcrop - shrunk from 875,000 ha in 1970-71 to 560,000 ha in 1990-91, and today Kerala produces 10-86 lakh tonnes of paddy annually, barely 30 per cent of its requirement. Vegetables and cereals are all being imported despite the state having rich soil conditions, an annual rainfall rate of 3,000 to 4,000 mm and enough human resource.

It was estimated that poverty was highest in Kerala as early as the '60s- rural poverty figure was 90.75per cent. With the decline in foodcrop production and dearth of substantial income in traditional industries like cashew, coir and tiles, the situation has only worsened now.

Unemployment figures display disturbing dimensions, with more than 40 lakh registrations in the government employment exchanges - almost three times the national average, with women constituting 52 per cent.

Women's condition in general is miserable. Although highly literate, their share in leadership rules is negligible, and the breakdown in women-centred traditional industries like coir and cashew has adversely affected the already disadvantaged rural women.

Alcoholism and dependence on psychotropic drugs are steadily on the rise in Kerala. Now Kerala leads India with a per capita alcohol consumption of 8.1 hire? This is only a whiff of the actual situation, as rampant illicit brewing and liquor trading in the state determines the exact magnitude of the problem.

Kerala students fall way behind in national competitions and while advanced research stagnates, the government machinery works overtime to project a haloed state of affairs existing in the state's education. The increasing apathy towards everything indigenous has seriously damaged native vocations and art forms.

To look at purely economic developments, in 1993 alone, the external remittances to Kerala banks totalled Rs 4,499 crore - mainly from migrants to the Middle East - which the government has failed to channelise effectively for any public utility. This led to the alienation of the land-dependant poor on one hand) and absentee landlordism harming the agricultural sector on the other.

In fact, between 1970-71 to 1986-87, large land holdings increased from 7.2 per cent to 9.67 per cent. The share of agriculture in the state domestic product came down from 53.40 per cent in 1960-61 to 33.92 per cent in 1991-92, according to one estimate. With the unprecedented rise in foreign exchange remittances and their investment in land, the whole scenario has indeed acquired very peculiar dimensions.

Tribals and the fisherfolk - the people dependant on the commons of the state - present perhaps the most cruel face of the Kerala Model. Ironically, the scheduled tribes, which constitute only 1.10 per cent of the population, have been declared totally 'literate' in July 1993. With depleting forests, organised land encroachments and severe cultural alienation, the Kerala tribals are at a loss. Of late, it is reported that efforts are on to legalise encroachments, while a recent survey says that already 9,646 tribal households from a total of 21,600 families in Wynad district are landless.

The most serious and perhaps irreparable damage has been inflicted on the environment. Massive deforestation, largescale conversions of paddy fields and wetlands, destruction of indigenous environmental safeguards like ponds and sacred groves, are a part of the same destructive continuum. The resultant effects, of course, are droughts, floods, landslides, drying rivers, drinking water shortages and erratic rainfall. No wonder that extensive laterisation of the soil, eutrophication of waterbodies and rising temperatures, according to scientists, are sure to herald in desertification.

The Kerala Model of development, therefore, cannot be complete without addressing this grave threat to our life-supporting systems. Ideally, the model should call for questioning the fundamental assumptions about the priorities, methodology and interpretation, and dissuading the project on of specific developments are alienated from historical and agro-climatic factors for short-term political gains.
Related Content