Patent problems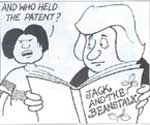 WALKING the tightrope of claims and counter claims seems to have become a way of life for the European Patent Office (EPO) as it contends with on a growing flood of hideously complicated patent claims. (Down To Earth, April 15, 1995. In a new ruling issued in early March, the epo upheld a challenge to a biotechnology patent while dropping 6 of the original 44 claims. As a fallout, the patent -- which covers plants containing a gene that makes them resistant to a herbicide -- will cover the genes and the techniques needed to insert it, but not the plants or the seeds.

Strangely enough, the EPO's decision was interpreted as a victory by both disputing sides -- patent-holder Plant Genetic Systems (PGS) of Ghent, Belgium, and Greenpeace International, the environmental group which challenged the patent. "The pgs wanted wide protection: from the plant cells, the seeds and the plants to a future generation of plants. Now it looks like they cannot charge royalties on the plants or the seeds," asserted Anna Brindley, a biologist at Greenpeace's science unit. Greenpeace also termed the decision as "a decision to defend nature" and "a major blow to the plant biotechnology industry".

PGS, however, took quite a different stand. It said that its basic patents had been vindicated, and that rules designed to protect plant varieties would prevent others from riding piggyback on its innovations. The company also claimed that it voluntarily withdrew the 6 offending claims in the original patent.

PGS, was awarded the original patent in 1990 for the technology for transferring a herbicide-resistant gene into the cells of plants like potatoes, sugarbeet and tomatoes. The company claimed commercial rights over the gene, the altered plants and the seed.

PGS, claims were contested by Greenpeace on ethical and technical grounds. Drawing on the European Patent Convention, which does not allow patents on an invention that is "contrary to public morality", Greenpeace pointed out that it was unethical to give a private company control over genes and living organisms, and that it was conceivable that farmers could be tempted to spray more herbicides, thereby killing off all vegetation except their own. The group also sought to demolish pgs' patent claim by asserting that the company was claiming rights over non-patentable plant varieties. Greenpeace's public morality argument didn't go very far with the epo, but its position on plant varieties did.

The epo's ruling is likely to have some far reaching consequences on biodiversity issues. About 800 patents have been filed on genetically-engineered plants in the us and the uk, of which 65 per cent include claims to patent the plants themselves. Behind it all is one of the biggest thorns in environmentalists' thin skins -- the rapidly growing sub-industry in transgenic animals.
Related Content