Arresting tactics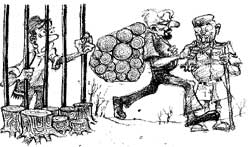 the Bastar forest scam in Madhya Pradesh (mp) , involving forest encroachment and felling of trees with officials' tacit support, has taken a new turn with the arrest of a social activist who was closely associated with the investigations. The activist, Ratneshwarnath , was part of the team that prepared a 93-page report for the National Committee for Protection of Natural Resources (ncpnr) titled, Widespread Illegal felling in Bastar district, mp. The report was prepared at the instance of the Supreme Court (sc). Rathenswarnath was arrested on February 20, and was released on bail on February 23 on intervention by the apex court.The sc bench, comprising Justice A S Anand, Justice B N Kirpal and Justice V N Khare, had directed the mp government to file an affidavit on the allegations of the arrest of the social activist.

The ncpnr has told the Supreme Court about the harassment of social activists in mp , especially those who are investigating the forest scam. The ncpnr has alleged that Ratneshwarnath was ill-treated in custody.

Hiremath, president of ncpnr, said: "Instead of booking the persons involved in the illegal felling of trees in Bastar district, the government is harassing the local people and social workers." Expressing the concern for social workers, D Prabhu, a member of the team which investigated the scam, told Down To Earth that the government should provide protection for the workers and should bring the powerful mafia to book.

According to Hiremath, the trouble started when Ekta Parishad, an organisation working among the tribals of mp, alleged that about 8,500 sq ft of public land in Govindpur, a village on the outskirts of Kanker town had been allotted by the tahsildar, Chandrakant Dhruv, to her husband Ram Vilas Thakur. When the social activists went to tahsildar's office to get information, Suresh Otti, a second division clerk at the alleged instance of the Tahsildar, filed an fir in December in 1997. But Ekta Parishad persisted with its efforts and sent a letter to the district collector on January 5 urging him to investigate into the matter.

Meanwhile, the ncpnr team submitted a 93-page report on December 22, 1997, to the court and the hearing was scheduled for January 13, 1998. Hiremath says that it appears that the Tahsildar and others had conspired to arrest social activists and create an atmosphere of terror to hamper the investigations. It is alleged that they were helping the timber mafia to escape. Hiremath says that the timber mafia is systematically undermining the efforts of social activists while creating hurdles for the investigators.
Related Content