Earthquake rocks Indonesia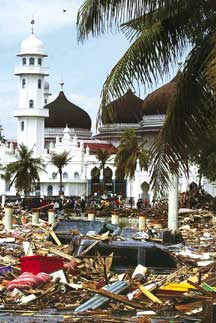 An earthquake measuring 6.3 on the Richter scale hit the Indonesian island of Java in the early hours of May 27, 2006. More than 135,000 houses were destroyed and an estimated 647,000 people were displaced, according to reports from Associated Press.

The quake was centred just off the Indian Ocean coast near Yogyakarta, a city and province in Java. Official reports say the death toll has reached 6,234 while about 46,000 people were injured. There have been at least 850 aftershocks since the quake.

The Indonesian government and aid agencies are struggling to provide essential supplies, medical help and shelter. Of those hurt, more than 33,000 are suffering from serious injuries, according to reports. Removing decomposing bodies is also a priority to prevent the possibility of an epidemic. A further bird flu threat looms over the displaced as many have taken shelter in chicken coops. The who has launched an immunisation drive as many are exposed to cuts and wounds.

Though international relief has been pouring in, it is not reaching survivors quickly enough. People have been lining roads and blocking traffic, pleading for food and shelter from motorists.

"There is a lack of bedsheets, mattresses and medical equipment,' says the un. The government announced that survivors would be given us $21 each for clothes and household necessities, while families would get 12 kg of rice. People would also be compensated for damaged homes.

Indonesia is prone to earthquakes because it falls in a seismically active "ring of fire', a region marked by regular volcanic and tectonic activity. Its 18,000 islands have as many as 129 active volcanoes.

Mount Merapi, a volcano located 20 km north of the disaster zone, has been emitting smoke and lava for weeks. Scientists had warned immediately after the quake that it could trigger a larger eruption in Merapi.
Related Content