World`s state as precarious as ever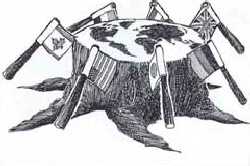 THE STATE of the world continues to deteriorate. Any light at the end of the tunnel is, at best, hazy. Despite the slide, perceptions have changed and the State of the World report could have been a powerful instrument towards this change for the better. However, one feels disillusioned when Lester Brown of Worldwatch Institute admits, "One of these years we would like to write an upbeat State of the World... but that does not appear to be imminent."

The report states that the rate of environmental degradation has accel- erated and the signs have become more visible. However, the report notes progress in some areas such as tapping alternative energy sources and reducing CFC emissions. The report also strikes a hopeful note at the beginnings of sets of controls to restrict eco-malign activities.

The 1993 report has maintained the high information content of its preceding ones. Apart from Teports on broader trends, Reviving Coral Reefs by Peter Weber, Rediscovering Rail by Marcia D Lowe and Reconciling Trade and the Environment by Hilary F French have illumined areas little discussed.The article by French, in particular, is useful because it focuses on an extremely contentious area in today's world of increasing globalisation.
Greening trade With pollution a global problem, nations acting alone are unable to control the environmental effects of trade. For instance, when the General Agreement on Tariffs and Trade (GATT) was created in 1948, environmental concerns were unheard of. Today, governments are struggling to reconcile antiquated trade rules with present-day environmental realities. As the Uruguay round of GATT raced to a climax, environmental imperatives dictated a need for the instrument to regulate global trade. But trade and environment remain contentious issues with the North and South. This is also true of other international agreements such as the Maastricht Treaty and the North American Free Trade Agreement.

Though there's no gainsaying that the report is well researched, emerging trends have become repetitive over the years. The repetition could have been overcome by changing the report's format - with a longer piece on the general trends in the main areas of environmental concerns such as global warming, water scarcity, energy use and habitat rationalisation, and shorter pieces spotlighting little-known aspects.

A more discreet use of terms like "sustainable development" and "participatory approach" could have made these phrases more powerful. The foreword mentions prominently that thousand of copies of the report are distributed to "key individuals" all over the world. One wonders, even at the risk of sounding frivolous, how many of these copies are ever leafed through?
Related Content