Positive vibes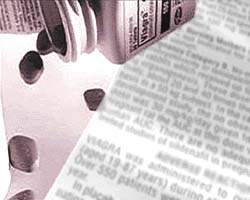 the little blue pill that restored the sex lives to millions of men may do the same for some women. Two new studies that Viagra may also help boost female sexual response, was reported at the annual meeting of the American Urological Association held in Atlanta, usa, recently.

Researchers are understandably cautious as the studies are at a preliminary stage and detailed studies are needed to confirm them. It was stressed that women should not experiment until further work is done. On the positive side, however, doctors are upbeat and encouraged that some progress is finally being achieved in the understanding of women's sexual problems, which have long been thought to be strictly psychological.New advances are being made in the diagnosis and management of female sexual dysfunction that until now have been difficult, said urologist Jennifer Berman of the Women's Sexual Health Clinic at Boston University Medical Center, usa. Berman says that it is now known that female sexual dysfunction is a significant problem that afflicts 30-50 per cent of American women.

In one of the new studies, Berman and colleagues recruited 35 women who had undergone hysterectomy - the surgical removal of the uterus - and experienced sexual difficulties afterward. After taking Viagra for up to two times a week for six weeks, most women reported improvements in their sexual satisfaction.

For instance, all women reported an inability to achieve orgasm before taking Viagra, compared to just 16 percent while using the drug. And while all the women reported low sexual sensation before the study began, just 22 per cent did after taking Viagra. The drug also reduced sexual pain and discomfort.

In the second Viagra study by Toby Chai, an urologist at the University of Maryland School of Medicine in Baltimore, 16 women who were menopausal or had undergone a hysterectomy and were experiencing sexual problems were given both Viagra and a similar-looking placebo. They did not know which was the active drug. Follow up showed that 10 women had improvements in their overall sexual experience with Viagra, compared to just one in the placebo group. And women on Viagra had easier orgasms, more genital sensation and increased vaginal lubrication.

None of the women on Viagra reported serious side effects. Most common complaints were headache and facial flushing. Viagra is believed to help women in the same way it helps men 'by increasing blood flow to the pelvic region'. However, it remains unclear whether blood flow is as important in the female sexual response as in that of males. Physicians say hysterectomies or other pelvic surgeries may cause damage that impedes blood flow to the female genitals. Another cause of sexual problems in women is the decline in estrogen that accompanies menopause.

Current treatments include estrogen replacement therapy, testosterone therapy, lubricating jellies and psychological counseling. But they don't work for everyone. Though early Viagra studies are encouraging and some physicians are already prescribing the drug to female patients. The seminar concluded that it's too soon for it to be prescribed for women except during controlled clinical trials. In fact, Pfizer, Viagra's manufacturer, said that because Viagra is not approved for female use, women should not take the drug except during studies. Pfizer has several large studies of Viagra for women currently underway in the us and Europe.

In another study three of four previously infertile women who used the drug Viagra became pregnant. Geoffrey Sher from Sher Institute of Reproductive Medicine, Las Vegas, advises women who have fertility problems not to rush to grab their husband's Viagra. In this small study only few women with a specific fertility problem were prescribed Viagra and the first baby born is about 4 months now (Human Reproduction, Vol 15, No 4).

This popular impotency drug was tried out in such women who had thin uterine linings, which prevented a fertilized egg from attaching to the uterus and developing. Viagra works in men by increasing blood flow to the penis, and it's theorized that Viagra worked in these three women by increasing blood flow to the uterus, thus making the lining thicker, allowing better chances for implantation.

Fertility experts are excited that Viagra might be able to help some infertile women but at the same time warn that the drug could cause damage to the mother and the developing fetus.Experts say even if more research shows promise in using Viagra, it would have limited application since less than one percent of infertile women have lining problems. Many physicians say they would not prescribe Viagra because it's untested in pregnant women and the fda has the drug for men only. The American Society for Reproductive Medicine is categorical: "There are risks to Viagra use. Known side-effects for women include high levels of nitric oxide in the womb, which can be both dangerous for the mother and toxic to developing embryos."
Related Content