PHILIPPINES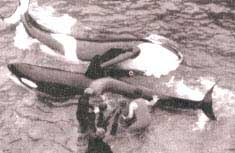 Even as dolphin parks are going out of vogue in the West, they are becoming a craze in South-east Asian countries, much to the dismay of conservationists. These countries are keen on boosting tourism revenues by setting up oceanariums featuring captive marine mammals such as dolphins. But conservationists say that these facilities will threaten the endangered marine mammals in the region.

A "conservation, research and breeding facility" as well as a leisure centre has been proposed to be set up in the Philippines by a US company - ostensibly to supply marine mammals to Chinese aquarium parks. The proposal involves construction of a marine facility in Camayan wharf in Subic Bay, northern Philippines.

An environmental task force has recommended that the proposal should be rejected under a 1994 rule prohibiting the catching, selling and export of dolphins from the Philippines. At present, marine mammals captured and displayed in theme parks have very short lifespans due to improper handling. In China, at least 15 aquarium projects are under construction or design while Japan has more than 70 commercial aquariums.
Related Content