Breeding danger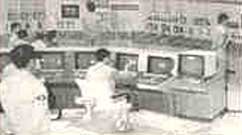 A prototype fast-breeder nuclear reactor in Japan had to be shut down due to sodium leakage last December. This accident has recently raised fundamental questions about Japan's nuclear power policy, as the government-run Atomic Energy Commission has begun reviewing the country's fast-breeder development plan.

The fast-breeder reactor 'Monju', named after a Buddhist goddess, leaked two tonnes of sodium from one of the plant's secondary cooling system. The leak was caused within a cooling pipe. Experts say that it will take several years for 'Monju' to resume its operation.

'Monju' is a key project in the Japanese nuclear power policy - regarded as a potential solution to Japan's energy problems.

Started in 1985, the reactor reached self-sustaining condition in April 1994, and began generating power in August 1995. 'Monju' is designed to generate 280 MW of electricity .

Sodium as cooling material has been found to be unsafe for nuclear reactors. Many European countries as well have abandoned plans to develop fast-breeder reactors because of high cost and the danger involved.

Although the Japanese government insisted that the reactor was safe, Japanese power companies are wary of local anti-nuclear sentiments, which became stronger after the accident occurred.
Related Content