Sweeping directive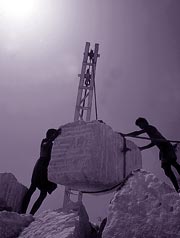 The Supreme Court (SC) in a recent order has banned all mining activities in the entire Aravalli hills in Rajasthan and Haryana. The order follows the court's earlier directive in May, prohibiting mining within a five-kilometre (km) radius of Delhi (see: Down To Earth, Vol 11, No 12, November 15, 2002).

The final order in the case was delivered in the third week of November. "The order is not limited to the hills encircling Kote and Alampur villages of Faridabad, but extends to the entire hill range of Aravalli from Dholpur to Rajasthan,' states the edict. The chief secretaries of the two states have to "ensure that no mining in the Aravalli hills is carried out, especially, in the area marked as protected under the Environment (Protection) Act'.

The order is sure to give sleepless nights to mining leaseholders in Haryana. Officials opine that the order is also going to have huge economic repercussions in both the states. In the earlier five-kilometre ban order, the sc had directed all leaseholders to get an environment management plan cleared from the Union ministry of environment and forests.

Haryana has, meanwhile, filed an application seeking a clarification on the implications of the ban. "We are still trying to understand the order,' says H S Dhankar, director, mines and geology department, Haryana.
Related Content