Silent wares from IBM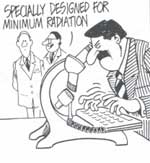 International Business Machines Corp is all set to produce a line of personal computers that will be quieter and whose display monitors emit lesser radiation.

IBM PC Co, a New York-based unit created by the US firm, said its computers, also meant for business users, are being designed to meet international health and safety standards. IBM's new designs will affect both include desktop and floor business units, monitors and keyboards.

The IBM initiative could give the giant firm an advantage in the fiercely competitive computer industry, says analyst Kimball Brown of InfoCorp, a California market research firm.