MALAWI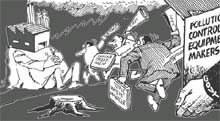 Malawi's parliamentary committee on the environment has warned that it will file cases against those individuals and companies who are found guilty of polluting the environment. "Most industrial and mining companies in Malawi operate without a viable environmental assessment strategy, therefore, pollute the environment without giving the matter a second thought,' says Chimunthu Banda, who chairs the committee.

"We will start investigating and will summon anybody found violating the environmental legislation and guidelines,' Banda said. He, however, admitted that while Malawi has appropriate legislation against environment crime, enforcement has always been a problem. According to him, there are no facilities and trained personnel in the country to monitor and check crimes against the environment.

The committee stated that companies, especially those involved in mining should evolve clear environment strategies. The committee is also planning to legislate the Environmental Management Act, which will make it binding for companies to implement environmental impact assessment strategies. It is also legislating laws to tackle with companies that start environmentally-hazardous work and leave them unfinished. A good example in this regard is the Kaziwiziwi Coal Mine in northern Malawi, which was abandoned without refilling the trenches excavated and replanting the trees of the area.
Related Content