A reprieve for tradition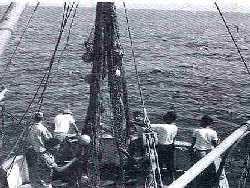 A Supreme Court ruling in November upheld the rights of "marginalised" traditional fisherfolk in Kerala, but they continued clashing with mechanised vessel operators. A division bench of the Supreme Court ratified the Kerala government's 1984 ban order against purse seine fishing (fishing with large, mechanised nets) upto 22.222 km from the shore and struck down a Kerala High Court order that had restricted the ban upto 10 km.

In their 38-page judgement, P B Sawant and R M Sahai pointed out that by 1984 -- just five years after the introduction of sophisticated gear for surface fishing -- the catch of traditional fisherfolk was reduced to less than half. As the number of traditional fisherfolk increased by 14 per cent in this period, the average catch per traditional fishworker declined sharply from an average of 3.55 tonnes to 1.55 tonnes per year, the court pointed out.

The court stated: "Traditional fisherfolk constitute one of the weaker sections of society, needing protection from the state, ordained particularly by Article 46 of the Constitution. Purse seiners are few and rich with enough resources at their command...They look upon fishing as a business and not as a means of livelihood." Purse seine fisherfolk were advised to convert their vessels for off-shore and deep-sea fishing or diversify into other fishing methods. Species like sardines and mackerel were not restricted to territorial waters, the judges noted. The court also highlighted the environmental impact of mechanised nets that "destroy fish stock by killing juvenile fish and fish eggs."

National Fishworkers' Forum president Thomas Kocherry hailed the ruling as a "landmark" judgement. But he said normal fishing operations in various villages along the Kerala coast had come to a standstill. "Mechanised boat owners continue to break the law and the state government is not showing any political will to implement the laws," said Kocherry.
Related Content