It s bean fuel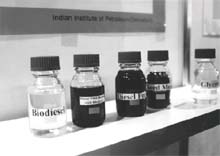 bio-diesel , an alternative fuel made from renewable resources, such as soybean oil, has become the first and only alternative fuel to have successfully completed the health effects testing requirements of California's Clean Air Act Amendments of 1990. The tests also showed that the use of bio-diesel would result in a 90 per cent reduction in air toxins over conventional fuels. The us Congress Budget Office even predicted that the federal government would save us $10 million annually by using bio-diesel for its fleet vehicles.

Bio-diesel is non-toxic, biodegradable and used in conventional diesel engines with little or no modifications. It was first recognised as an official alternative fuel for meeting requirements of the Energy Policy Act of 1992 ( epact ) after the legislation was passed in 1998.

Since then, use of bio-diesel has soared as bus and truck fleets across the us have found it a cost-effective option for meeting epact 's alternative fuel requirements. The use of bio-diesel has increased more than 1,000 per cent in the us since the bill became law 18 months ago.

"We know this was a costly process, more than two million dollars, but by funding and completing these tests ahead of all other alternative fuel groups the bio-diesel industry has shown that it means business,' John Shimkus, an Illinois Republican said.

"By working together, we are providing communities across the country with the ability to meet alternative fuel requirements at the most reasonable cost. We are helping these communities improve their air quality. At the same time, we are helping America's farmers, while enhancing the nation's energy security. With petroleum prices at an all time high the need for domestically produced alternative fuel is apparent now more than ever,' he added.
Related Content