Ethiopia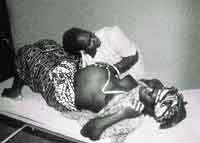 A team of researchers at Johns Hopkins University in the us have abandoned plans to use dummy pills in an experiment on Ethiopian women who are pregnant and infected with the aids virus. The use of the dummy pills as a placebo has renewed the intense debate over the ethics of a series of federally financed studies in the developing countries.

In the us , tests comparing the effects of an intensive treatment of azt ended in 1994 once it was shown that the drug sharply reduced transmission of the virus from mothers to their babies. But the drug's high cost makes it prohibitive for many women in the developing countries to take it. Nevertheless, since it is now routine for pregnant women with aids in the us to receive azt , there has been a bitter controversy about the use of dummy pills in the foreign studies.

Studies on women will be now be re-evaluated, including tests in the Ivory Coast and Tanzania and the one planned in Uganda. Liz Pettengill, a spokesperson for the researchers said that the scientists are expecting that a study presently underway in Thailand will prove that a short course of azt is effective. If this is proved, then these studies will be terminated.
Related Content