Saving the Wonder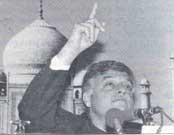 Agra's Taj Mahal will soon heave a sigh of relief and breathe clean air, it seems. In the first week of March Satish Sharma, the minister of state for petroleum and natural gas, announced a 10-point strategy to save this pristine white monument to love from the corrosive effects of fumes from foundries, glass factories, a high volume of automobile emissions, as well as from the toxic sulphurous emissions from the Mathura refinery.

An "environment friendly zone" around the historic monument will be created through an ambitious strategy of phasing out steam coke fuel, and supplying liquified petroleum gas (LPG) to the industries as well as to all the households in and around Agra.

Complying with the Supreme Court's directives to the Indian Oil Corporation, natural gas would be supplied to the Mathura refinery, and hydrocracking technology introduced to cut down on emissions.
Related Content