Draft Report on Environmental Impact Assessment study: 5x660MW (Super-critical) Thermal Power Project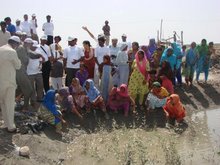 Gujarat High Court has ordered re-scheduling of the public hearing of Adani's proposed 3300 MW KPGL thermal power project in Bhadreshwar, Kutch. Here is the draft EIA report of this project opposed by fisherfolk and the salt pan workers.
This document contains the draft EIA Report of 5x660MW Super Critical Thermal Power Project at Village -Bhadreswar, Taluka- Mundra, Kutch- District, Gujarat, which aims to facilitate environment clearance for the same from Ministry of Environment and Forest (MoEF), Govt. of India.. The Adani Group, an emerging conglomerate has decided to enhance the power generation capacity and has floated a special purpose vehicle Kutch Power Generation Limited" (KPGL), which is planning to set up 5X660 MW Coal Based Thermal Power Plant at village Bhadreswar Taluka- Mundra, District- Kutch, Gujarat. The purpose of the report is to integrate different environmental factors into project planning and decision making by studying probable changes in the various socio- economic and bio-physical characteristics, which will result from the proposed project, so as to achieve ecologically sustainable development. The purpose of the study is to identify Environmental risks, reduce conflicts by promoting community participation, minimize adverse Environmental Impacts and keep decision makers informed thus laying base for Environmentally sound Project, such that the benefits shall be observed at all the stages of the Project starting from conceptualization to planning, design, construction, operation, decommissioning and site closure.
Related Content