Fish disease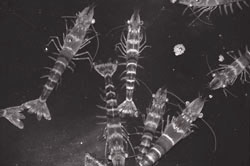 with uncertainty hanging like a pall over the future of prawn cultivation in Andhra Pradesh (ap), prawn farmers who had stocked their ponds, have reported outbreak of viral diseases among the fish crop. According to sources, at least 40-50 per cent of the area in Krishna and other districts are supposedly under prawn culture. While several farmers stocked their farms in February and March, others decided to wait and watch in view of the demolition threat by the Supreme Court.

"The problem is not serious as of now. Only a few ponds in certain areas are affected by the viral outbreak," said G M Naidu, a district dealer for aqua feeds. "But in spite of it, farmers are getting ready to stock the remaining ponds even now," added Naidu.

In ap, 76,589 ha of land area have been brought under prawn farming with the water-spread area being 54,695 ha.The Krishna district, with 32,851 ha of land area and 26,114 ha of water, stands first in the state with almost 90 per cent of the prawn farmers falling into the small and marginal categories.
Related Content