TRINIDAD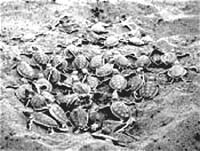 Hundreds of turtles have laid eggs on the shores of the Trinidad beach. This is the most unusual event in the history of this beach. "Turtles have always nested here, but never more than four or five a season. This year at least 250 to 300 turtles have come," says Vijay Sharma, a forest ranger.

According to Karen Eckert, executive director of the Caribbean Sea Turtle Conservation Network, the turtle influx is the result of successful conservation efforts in Trinidad. "Only a decade ago we were killing one of the every three nesting females at Matura, the biggest breeding ground in Trinidad. After the ban on turtle slaughter, there is virtually 100 per cent survival," Eckert says.

She added other coun-tries will also benefit from this Caribbean breeding ground. Today, there are an estimated 50,000 nesting turtles in the world, which is 50 per cent less than the figure 20 years ago.The police has increased night time patrols and have sought the cooperation of local people to save the turtles.
Related Content