Assessment of cumulative impacts of hydroelectric projects on aquatic and terrestrial biodiversity in Alaknanda and Bhagirathi basins, Uttarakhand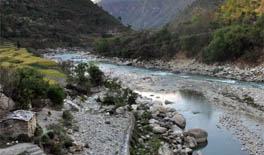 This assessment of cumulative impacts of hydroelectric projects in Alaknanda and Bhagirathi river basins in Uttarakhand. It takes into account impact of 70 Hydro Electric Projects of which 17 are existing, 14 are under-construction and 39 are proposed.
The broad objectives this study are: To assess the baseline status of rare, endangered and threatened (RET) species of flora and fauna dependent on riverine habitats and floodplains of Alaknanda and Bhagirathi river basins; To identify the critically important habitats along the existing and planned Hydro Electric Projects located on rivers Alaknanda and Bhagirathi upto Devaprayag; Delineate river stretches critical for conservation of rare, endangered and threatened (RET) aquatic species; To assess the key habitat variables for RET species, including minimum flows and volume of water for ecological sustainability of the two rivers.The study aims to generate 'alerts' for safeguarding priority areas for conservation from impacts of hydropower schemes (existing, underway and proposed) in the two basins; provide a 'risk forecast' for specific biodiversity values (Rare, Endangered and Threatened (RET) Species and critical habitats) in the event of developments proceeding as planned and finally present a menu of scenarios for decision makers to approve options that best help in aligning energy planning with biodiversity conservation for sustainable developments in energy sector.
See Also
Feature: Cleared at cost of biodiversity.
Study: Impact of hydropower projects in Alaknanda and Bhagirathi.
Feature: Prayers for a little.
Feature: Under threat.
Order: MoEF order to Alaknanda Hydro..
Letter: Environmental Clearance to Alaknanda Hydro Power Company.
Document: Notification on Bhagirathi.
Report: Environmental clearances of Loharinag Pala hydro power project.
Feature: Myth of power -2008.
Related Content