No polybags in Tripura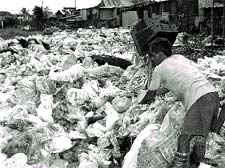 ON SEPTEMBER 16, the Tripura government's 20-month-old law banning plastic bags became more stringent. Seeking to remove the crinkles in the original rule, the state authorities have forbidden the use of polybags that weigh under 2.1 grammes, and are less than 30 centimetres (cm) long and 16.5 cm wide. These stipulations are in addition to the earlier criterion, according to which plastic bags with less than 20-micron thickness were prohibited.

The directive has also been given more teeth with the inclusion of a fresh penal provision - a prison sentence that can extend up to six months - along with the existing fine of Rs 1,000 for manufacturing, supplying and using banned plastic carry bags. Further, a separate cell has been constituted under the Tripura State Pollution Control Board (TPCB) for enforcing the ban.

The state government is optimistic that armed with these provisions, it will be able to tackle the plastic bag menace. TPCB chairperson Mihir Deb is emphatic: "The board is determined to implement the order." Notably, within a week of the new clauses being inserted, officials have confiscated 50 kilogrammes of banned polybags. "We are also going to deal with the unscientific disposal of biomedical and solid waste," discloses state environment minister Pabitra Kar.

The earlier directive on polybags came into effect on January 26, 2002, but failed to prove effective primarily because of poor enforcement. Though the use of thin plastic bags is a major cause for concern throughout the country, the problem is particularly severe in Tripura since the product is smuggled into the state from neighbouring Bangladesh. Another reason is that the state does not have a plastic disposal system.

The Agartala Municipal Council estimates that the capital city generates about 90 metric tonnes of solid waste every day, out of which 9-10 per cent is plastics. Now, local non-governmental organisation Association for Research on People And Nature is sensitising people to the environmental pollution caused by polybags.

Meanwhile, residents appear sceptical about the decision. Ratul Debbarmma of Agartala laments that hardly any information has been disseminated regarding disposal of such bags.

If the government wants to rid Tripura of the hazard, it should encourage the paper and jute industries, avers M L Debnath, president, Tripura Chamber of Commerce. Kar reveals that a move is afoot to popularise jute and paper bags as suitable substitutes.
Related Content