A belief in tradition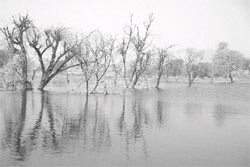 It was a real pleasure to go with President K R Narayanan to Hamirpura village. People always come to the Rashtrapati Bhawan estate to receive awards from the President. The fact that the President went to the village himself to honour it is a remarkable thing in itself. It is doubtful if an Indian President has ever gone to a village to felicitate its people in the past.

The readiness with which he had accepted my offer to come to the village to present the award is clearly indicative of his graciousness and sensitivity to the problems of the poor. Poverty and the importance of rainwater harvesting are two issues that he had already emphasised in his Republic Day address this year.

President Narayanan, himself born to a poor family in Kerala, understands and appreciates the agony and the problems of poor people.But he is also a man who broke the bonds of poverty and through sheer grit worked his way up to the position of President of India. This is why he also knows that the poor may be strapped in economic terms but they are not poor in terms of knowledge, wisdom and hard work. More than economic help, the poor seek dignity and encouragement to achieve what they desire. This is why the work of Bhaonta-Kolyala and other villages had resonated so much with him.

Today, there are hundreds of thousands of villages in India which face water scarcity. Bhaonta-Kolyala and other villages in this region have shown, through their work in rainwater harvesting, that it is possible to revive water. This message is of no mean importance and is a source of tremendous hope (see box: A pilgrim's progress ).

The johad s (check-dams) built by the people of Bhaonta-Kolyala and other villages in the watershed of the Arvari river are an effort to capture the meagre 500-600 millimetres (mm) of rain that falls in the region. These structures allow water to slowly seep into the ground, raising the water table steadily and replenishing the wells that have been lying parched for years. Moreover, the same groundwater seeps into the bed of the dry river, making it alive with water again round the year. This is the reason that Arvari, which had been reduced to a seasonal drain, flowed continuously till December 1999.

Now, following two years of continuous drought, the river is drying up again. This explains the importance of what is called the hydrological cycle. Bhaonta-Kolyala has revived and nourished the same hydrological cycle, which we are increasingly forgetting in most other parts of our country by relentlessly exploiting water from our rivers and from the ground.

I want to narrate my first meeting with the 80-year-old Dhanua Baba of Bhaonta-Kolyala. He had briefly recounted his life to me. He had said, "My family had land, but after the forests were cut down, we could not grow crops. From the age of 13, I started wandering in search of employment. When Mahatma Gandhi was shot dead, I was carting sacks in Lahori Gate of Delhi. When Indira Gandhi got married, I was still there. But in the last three years, I have cultivated my land for the first time. Nobody in my family needs to migrate in search of a livelihood now." The transformation that water harvesting can create is clearly evident in Dhanua Baba's story.

Mahadevi Verma, the celebrated poetess of India, had once remarked that to take a step forward, it is important that the other foot is firmly planted on the ground. Similarly, if a society strives to develop, it has to ensure that the other foot is firmly planted in its traditions. A society can progress with strength only when it can come up with a harmonious and beautiful blend of the old and the new. Mahatma Gandhi had also once remarked that doors of all the windows of his house should be open but the wind should not sweep him away.

I understood this in 1987 when the then prime minister, the late Rajiv Gandhi, entrusted me with a task. India was plagued by drought and floods in 1985, 1986 and 1987. Several crore rupees had to be distributed as relief. Rajiv Gandhi told me that the way relief expenditure was escalating, there were clear signals that flood and drought were becoming more frequent. The speed at which the number of tubewells was rising would ensure that the groundwater table would fall. This relief money should be invested in conserving the environment so that our future is a little more secure.

He asked me to address members of Parliament ( mp s) on this issue. To say something concrete, we required data. So, my colleague Sunita Narain and I travelled through the country for two months, but obtained little. I was not satisfied with my address to the mp s.The question of finding a long-term relief against drought kept haunting me. We found the answer in the drought of 1987, when we got an opportunity to visit several villages and cities in the heart of the Thar desert of Rajasthan. We witnessed something unusual.

The drought notwithstanding, several families which had taken good care of their traditional water storage systems, such as kundis , had enough water to survive and see themselves through the tough times. But families which depended on tankers and pipelines were in a desperate condition. The reason for this became evident in Jodhpur, where the situation was such that water was being supplied for one hour in three days. In some cases, water was being supplied through the railways.

Fortunately, when we were in Jodhpur, it rained heavily for one hour. Jodhpur city has taken root on the edge of a rocky plateau. In earlier times, canals that stretched for several kilometres would capture the rain falling on the plateau and channelise it through to several talab s (human-made ponds) from where water would seep into the ground and fill the wells and step-wells of the city. During that brief rainfall, I witnessed hundreds of water channels and waterfalls. But very few drops of this rain managed to reach Jodhpur city because all channels and canals were either broken or filled with garbage. I realised how the people living here made a glorious city in a place where it rains a mere 200-300 mm in a year.

Some days later, I had the opportunity to visit Cherrapunji in Meghalaya, where it rains about an average of 11,000 mm per year. My eyes popped out on seeing a notice in a government rest house. It said, "Water is limited, please use it judiciously." Following the cutting down of forests, all the seasonal drains and channels dry up soon after the rains and the people face water scarcity for the remaining eight months.

It became clear to me that regardless of the amount of rain, if water is not captured and stored properly, water scarcity will loom large in front of us. In the ensuing decade, my colleagues at the Centre for Science and Environment travelled throughout the country and compiled the traditional knowledge of water harvesting. This has been published in our book Dying Wisdom. The same culture of capturing every drop of rain has been revived by the villages of Alwar.

In an earlier conversation with Ashok Gehlot, chief minister of Rajasthan, I mentioned to him that from the Thar desert to the Aravalli range of mountains, as well as in the plateau of southern Rajasthan, if we can replenish the hydrological cycle, we can eliminate poverty for a substantial portion of the state's population within a decade.

Let me say a few words about the Down To Earth-Joseph C John Award. John was very fond of trees and in 1957, when we had not even heard of the term environment, he established an organisation called Friends of Trees in Mumbai. Till 1973, when he returned to Kerala, he worked very hard to preserve the greenery in Mumbai. His son and daughter - Madhu John and Mallika Akbar - desired that an environmental award in the father's name be given every year. They approached me and asked if Down To Earth would institutionalise the award. As you may be aware, Down To Earth , strives to present to its readers not only the environmental problems and challenges facing us today but also tries to bring forth solutions to these problems, to inspire them and enkindle hope of meeting these challenges.

To ensure that the process of selecting a winner of the award is thorough and transparent, an exhaustive process was formulated (see box: The award and the process ). The reports on the award ceremony and the recipients follow.
Related Content