Floating highway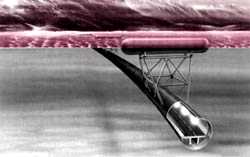 the Norwegian Public Roads Administration plans to construct a 1,400-metre long tunnel that would float 25 metres below the surface of the 155-metre deep Hogsfjord near the western city of Stavanger. The proposed tunnel is first of its kind in the world which will have a two-lane automobile conduit and a bicycle-pedestrian path. The construction of the tunnel is expected to begin by the year 2000 ( Scientific American, Vol 277, No 1).

The tunnel will require an air-filled tube, made up of either concrete or steel. To prevent the tunnel from rising to the surface, engineers are planning to build it lighter than the watery medium. Aker Norwegian Contractors, a Norway based company, has proposed for a technology to prevent the tunnel rising to the surface. At present, the same technology is used to position oil platforms in the North sea.

The projected cost of the submerged floating tunnel ( sft ) is about us $130 million would be nearly the same for a tunnel drilled below the seabed. However, the construction of an sft requires less cost than a bridge. With the advent of new technologies and experience gained accordingly, such tunnels may prove to be less expensive than the conventional tunnels for deep-water spans.

Engineers have planned to tie-up the tunnel with steel boxes placed at the surface of the seabed. For this purpose, they will use steel pipes, called tension legs. A few other companies will also provide assistance and technology to push down the tunnel to its intended depth. For keeping the cylinder in a proper place, a series of surface-floating pontoons with various types of tubing will be connected to the top of the tunnel.

Havard Ostlid, project manager, Norwegian Public Roads Administration, says the company has no prior experience of constructing such tunnels. The project will be executed taking into account the factors such as subsurface waves. Computer modelling and tests at Norwegian University of Science and Technology show that the current generating from the waves may cause the tunnel to move slowly a metre or so from side to side.

The cost and and novelty of these structures have engendered caution in the past. Since late 1960s, Italy has considered an sft across the Messina Strait from Calabria to Sicily. And the idea for the sft at Hogsfjord was first put forth in 1985.

Special interest in such technology has led the European Commission ( eu ) to set up a study group for evaluating sft s. Looking at the good response, Norwegian construction companies and engineering groups, have formed a promotional and technological upgradation organisation, called Submerged Floating Tunnel Company. In recent times, a number of possible sites for sfts have been identified throughout the world. Japan has studied three crossing points, including a nearly 30-kilometre long tunnel to cross Funka Bay in Hokkaido Prefecture.
Related Content