Thousands displaced, many killed as tribes fight for water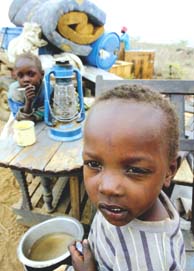 A fierce clash over water has displaced thousands of people and killed at least 15 in the Mai Mahiu region, about 60 kilometers northwest of Kenya's capital Nairobi. The tussle over water rights between the Maasai and Kikuyu tribes, which dates back to the 1960s, took a violent turn on January 21, 2005, after Maasai pastoralists charged a local Kikuyu leader with diverting water from the Ewaso Kedong river to irrigate his farms. The Maasais say the action caused water shortage for their animals downstream. They attacked the Kikuyu leader's farm and damaged his water pipes. Several huts were torched and many people were wounded, apart from those killed, in the fighting that ensued between the two tribes.

While government officials said 17 bodies had been recovered by January 24, 2005, Rift Valley provincial commissioner Wilson Ndolo confirmed only 15 deaths. Ndolo also reportedly claimed that the government had mediated a truce between the two tribes and they were returning home. "We brokered a ceasefire yesterday at 2 pm and we have deployed police officers to ensure that it holds,' Ndolo told the displaced Kikuyu people. "Let elders from both sides meet and agree to talk peace. Meanwhile, there will be a 24-hour patrol.'

But there was little sign of the clashes ending. There were reports of gangs of youth preparing to launch fresh attacks as war cries could be heard from hilltops. Kikuyus continued to flee their villages and come to makeshift camps in Mai Mahiu township, where their number had crossed 2,000 by January 24, 2005. A large number of Maasais fled further west, to Narok, while many Maasai women and children set up camps in the Kigesha region. The Maasai often charge Kenya's first president, a Kikuyu, with sowing the seeds of the fight three decades ago by illegally allotting land to Kikuyu farmers at the cost of grazing land for their animals.