MP government to net in fisherfolk`s body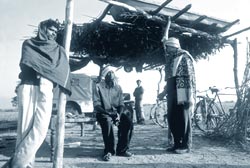 the future of the Tawa Matsya Sangh (tms), Madhya Pradesh's highly acclaimed federation of fisherfolk cooperatives, is at stake. The Madhya Pradesh (mp) government is contemplating taking over the management of the Hoshangabad-based body.

tms comprises local people who were displaced during the construction of a dam on Tawa river. They obtained fishing rights in the reservoir after being locked in a struggle with the state government for five years.

The deputy registrar of co-operative societies in Hoshangabad district has issued two show cause notices to tms. The charges of "financial irregularities" in the functioning of the federation have been levelled at the fisherfolk and the recovery of a huge sum of money - Rs 26 lakh - has also been ordered from the federation's directors and managers. The dissolution of the elected board of directors and the appointment of a government administrator have also been demanded.

To date, tms has been entirely managed by the people. They feel aggrieved and are sanguine that the involvement of the government would go against the federation's raison d'etre. "A government administrator at the helm sounds the death-knell for tms," says Sunil, an advisor to the body.

tms has replied to the show cause notices and is now awaiting the government's decision. When asked about further action, officials in the district administration say that tms' response is being studied and the government will take a decision soon.
Related Content