Greenpeace bungles, pays up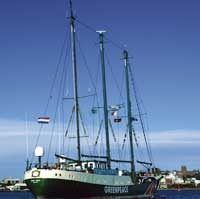 Greenpeace, a non-profit organisation, has apologised for the damage caused to 160 sq metre of coral reef by its ship Rainbow Warrior ii, in Philippines, on October 31, 2005. The reef is a 32,000-hectare formation in the Sulu Sea in central Philippines that is listed by the un Educational, Scientific and Cultural Organisation, as a world heritage site.

Greenpeace was fined nearly us $7,000, for this damage. "This accident could have been avoided if the chart was accurate. We feel responsible, however...,' said a Greenpeace official. This visit was part of a trip to raise awareness about global warming and promote renewable energy.