Angling spat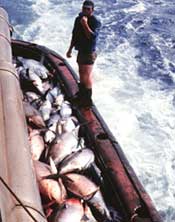 For the third time in five years, negotiations on fishing between the European Union (eu) and Tanzania failed because of dissatisfaction with the conditions of the agreement. eu recently rejected a proposal by Tanzania to restart negotiations on an agreement on tuna fishing zone beyond 12 nautical miles from the latter's coast saying Tanzania had withdrawn twice from the negotiation process.

A Tanzania government official said they refused to sign the agreement earlier because eu wanted a licence for using surface long-liners, which is prohibited in Tanzania coastal waters. He claimed they did not want eu to control and conduct surveillance in its fishing sites. eu also wanted exclusive rights to grant licences for fishing to its countries.

Meanwhile, the Indonesian government has asked eu to repeal discriminatory regulations on fisheries products from southeast Asia. It claimed eu' s regulations favoured African and Latin American countries.