Pollutants flood Lake Victoria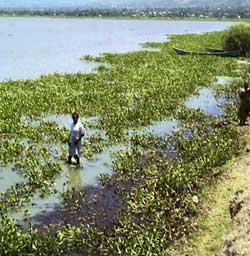 Lake Victoria, the world's second largest fresh-water lake, is threatened by uncontrolled flow of pollutants into its waters, researchers warned recently. The lake spreads across Tanzania, Uganda and Kenya.

The pollutants could lead to the collapse of the lake's multi-billion fish industry. Release of raw sewage into the lake by various local authorities has increased the level of toxic substances in the lake, thus endangering fish.

"Most local authorities and small beach settlements around the lake lack sewage treatment facilities, hence pollutants find their way into the water,' said Richard Abila, a researcher with the Kenya Marine and Fisheries Institute.

Poor agricultural practices in surrounding highland areas have also been blamed for the release of chemical sediments from fertilisers, pesticides and herbicides.