Broken promises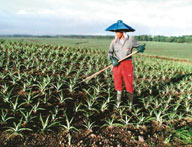 Two cooperatives operating in South Cotabato in the Philippines were recently charged for violating several provisions of their respective environmental compliance certificates by the country's environment department.

Both cooperatives violated a compliance certificate condition that required a buffer zone of at least 20 metres from major rivers or waterways with normal water flow, Saikol said. The buffer zones should be planted with appropriate tree species.

T'boli Multi-Fruits Grower Cooperative and Laconon 100 Multi-Purpose Cooperative, who are marketing partners with pineapple giant Dole Philippines, were charged with about us $2,000 each.

Datu Tungko Saikol, regional director, Environmental Management Bureau, recently issued the order based on complaints filed last year by the Coalition of Social Development Organisation in South Cotabato.
Related Content